The "Weißwurst" – it is as much a part of the Munich lifestyle as the pretzel, the beer and the "Wiesn". It was born at least 166 years ago. Legend says that Munich innkeeper Joseph "Sepp" Moser served it for the first time in his inn "Zum ewigen Licht" on Marienplatz in Munich on Carnival Sunday, February 22, 1857.
Yet its birth was by no means planned. Sepp is just about to make his "bratwursts" – when he suddenly runs out of sheep intestines. Without further ado, the innkeeper and butcher grabs a few pork intestines in stock for his sausage meat. Afraid that the much thicker casings might burst during frying, he boils them in water in a way that is not typical for "bratwurst". But the "accidental product" tasted so good to his guests that the "Weißwurst" found its way onto the menu.
Was it just like that? At least the former Munich city archivist Richard Bauer has expressed doubts about the story. He found a picture from 1814 that shows Munich residents in the Bockkeller of the Hofbräuhaus eating "Weißwurst".
The honorary day of the "Weißwurst" is nevertheless celebrated every year on February 22. And whenever and wherever it was actually invented, we are glad that it has become a classic of Bavarian cuisine.
Eating "Weißwurst" in Munich – 2 tips
So where can you find the best Weisswurst in Munich? We can't and don't want to give a blanket answer to these questions.
There is, however, one place where the unique Bavarian sausage is really celebrated every day, along with many other types of sausage. At the Großmarkthalle restaurant, sausage lovers can find everything from woolen sausages to sweetbreads and veal sausages. However, the restaurant is probably best known for its "Weißwurst". It is produced fresh daily by butcher and landlord Ludwig Wallner. Our tip for all those who can't get a seat in the morning: Quickly get in, buy "Weißwurst" at the counter and then warm up in the Revo Apartment.
And vegans take note! Since 2022, completely plant-based "Weißwurst" enjoyment has been available at Wirtshaus Herrschaftszeiten. It is produced by the Munich-based start-up Greenforce. The pea-based alternative product looks like the original and comes surprisingly close to it in taste, too. The vegan "Weißwurst" is served in the inn in the traditional way until 12 o'clock, together with sweet mustard, a pretzel and wheat beer.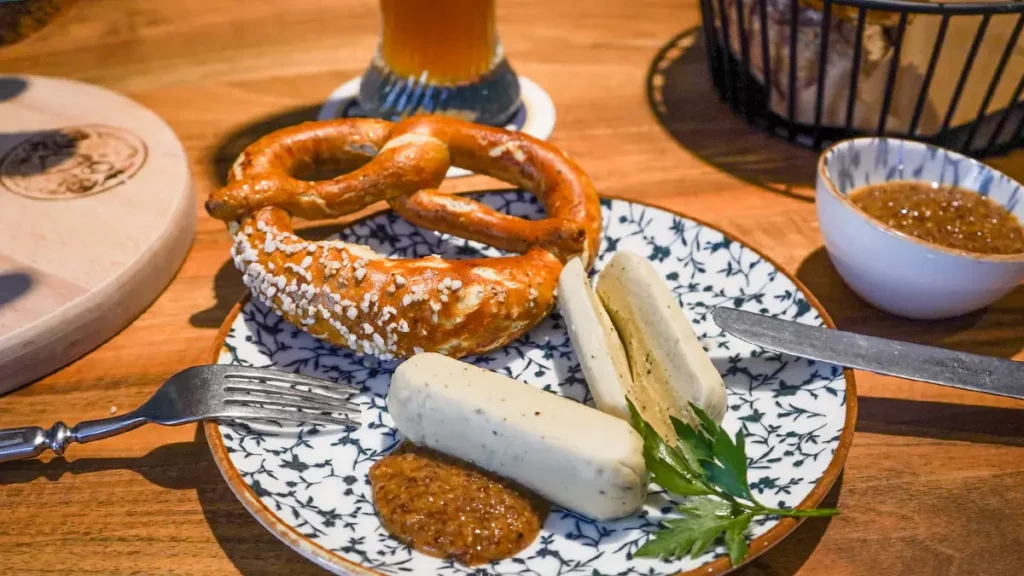 A few "Weißwurst" rules for newcomers
If you think you can eat "Weißwurst" at any time of day and in any combination during a visit to Munich, you are mistaken. If you don't want to immediately stand out as a "Zuagroaster" (sb, who just came to Munich), then you have to observe a few rules.
A "Weißwurst" must not hear the 12 o'clock bell. But why actually? This quote comes from the 19th century. At that time, the "Weißwurst", which was made in the morning, was still packed raw, adequate cooling facilities were lacking in many places, and so it simply had to be eaten quickly. Today the white sausage is scalded, is thus anyway longer durable. So we don't really have to rely on the 12 o'clock rule anymore, but in Bavaria traditions are known to be quite stubborn.
The "Weißwurst" is not ordered in pairs. This is true both at the butcher's and in the pub. Supposedly, this rule comes from the restaurant business. Because the service staff did not want to confuse the kitchen, the quantity of "Weißwurst" was ordered in pieces and thus passed on to the kitchen.
The white sausage is tongued. Or elegantly opened. Tradition-conscious connoisseurs take the "Weißwurst" in their hands and pull the sausage meat out of the intestine with vacuum. Admittedly, this method is not particularly aesthetic. Probably the noblest way to eat it is with the cross cut, which, however, requires practice. The sausage is cut at an angle and released from the intestine with a twisting motion. Slightly easier is the longitudinal cut along the "belly".
Pay attention to the right accompaniment! What is eaten with the "Weißwurst" is quite clearly regulated – typically Bavarian. First, "a resche Brezn" (crispy pretzel), second, "an siaßn Senf" (sweet mustard) and third, "a hoibe Weißbier" (0.5 liters of wheat beer). Please no spicy mustard, light rolls or other beer!
And now: "An Guad'n!"